The Guardian (blog) | Thu, 28 Aug 2014 03:18:45 -0700
Pound for pound, BBC1's DIY SOS offers far more emotional heft than almost anything else on television. Thought it was sad when that bloke died on Downton Abbey? Overcome by the miracle of life during Call the Midwife? Well, watch the last two minutes ...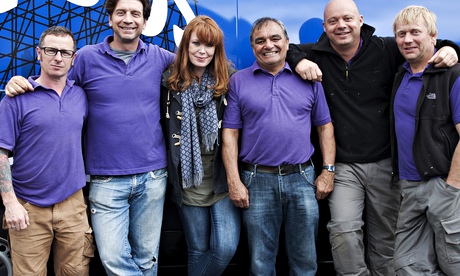 The Guardian (blog)
View Complete Story
Grimsby Telegraph | Sat, 23 Aug 2014 01:00:15 -0700
Cofely staff respond to Grimsby foundation's DIY SOS. By Grimsby Telegraph | Posted: August 23, 2014. GLOSSY FINISH: Pauline Cooke, left, and Olivia Sakseide get painting. Picture: Rick Byrne. MAKEOVER: Pam Hodge, founder of the Rock Foundation, ...
Grimsby Telegraph
View Complete Story
News & Star | Mon, 11 Aug 2014 04:48:21 -0700
The entire family touched all who came across them and, at the time, DIY SOS presenter Nick Knowles described them as "an amazing little family". Until the programme is shown, the Walls have been unable to show any photos or videos of Noah in the house ...
News & Star
View Complete Story
Radio Times | Fri, 15 Aug 2014 15:37:35 -0700
DIY SOS: The Big Build: Cumbria. Radio Times: Review by: Gill Crawford. Taking on a major home renovation project is never straightforward – there's bound to be something just waiting to disrupt your schedule and budget. And if your house is more than ...
Radio Times
View Complete Story