The Guardian (blog) | Thu, 28 Aug 2014 03:18:45 -0700
Pound for pound, BBC1's DIY SOS offers far more emotional heft than almost anything else on television. Thought it was sad when that bloke died on Downton Abbey? Overcome by the miracle of life during Call the Midwife? Well, watch the last two minutes ...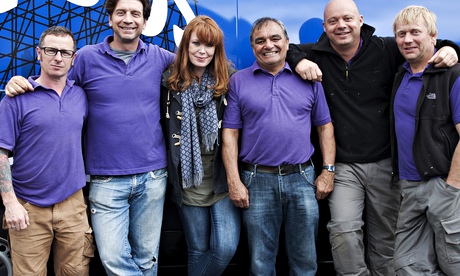 The Guardian (blog)
View Complete Story
Grimsby Telegraph | Sat, 23 Aug 2014 00:52:30 -0700
Cofely staff respond to Grimsby foundation's DIY SOS. By Grimsby Telegraph | Posted: August 23, 2014. MAKEOVER: Pam Hodge, founder of the Rock Foundation, thanks staff from Cofely GDF Suez, for helping with painting at the new Rock Foundation ...
Grimsby Telegraph
View Complete Story
Southwales Evening Post | Wed, 30 Jul 2014 23:45:53 -0700
The generous star reached for his wallet during a thank-you bash at The Village Hotel in Swansea to say cheers for their help on DIY SOS. Yesterday was the final day of the project. And 14-year-old Jack Morris, who was born with a rare form of muscular ...
Southwales Evening Post
View Complete Story
News & Star | Mon, 11 Aug 2014 04:48:21 -0700
The entire family touched all who came across them and, at the time, DIY SOS presenter Nick Knowles described them as "an amazing little family". Until the programme is shown, the Walls have been unable to show any photos or videos of Noah in the house ...
News & Star
View Complete Story